Network
How to download Videos on Facebook/Youtube?. 1
How to manage file in cloud server?. 1
How to manage files in SMB server 1
How to manage files on your android device with your PC?. 1
How to manage other android devices via Bluetooth?. 1
How to browse and manage photos on remote album?. 1
How to manage files on FTP server?. 1
How to send files/folders to others?. 1
How to search network resource?. 1
How to download Videos on Facebook/Youtube?
With ES download manager you can download videos from facebook/youtube
Steps are:
①you can login facebook/youtube from inside ES by pressing new on homepage and input the address or you can press its icon on homepage directly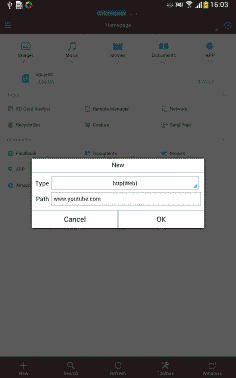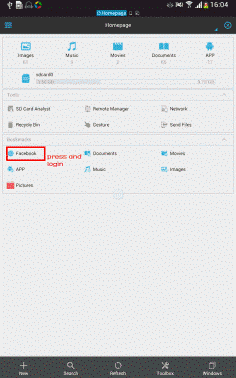 ②Open a video and press the get full screen button
③press on the video to get the download button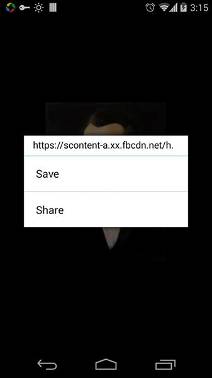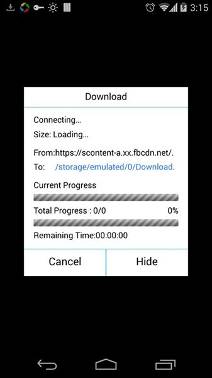 How to manage file in cloud server?
From left sidebar→network→cloud or go to net work page → new →cloud, you can select cloud services to add your account
Currently we support Box, SugarSync, DropBox, OneDrive, GDrive, S3, Yandex, KuaiPan, KanBox, Vdisk, Baidu NetDisk, MediaFire etc. All servers support multi account.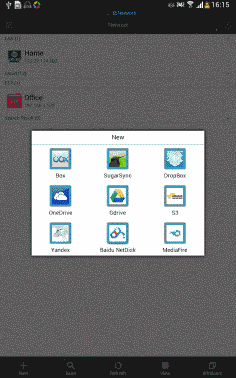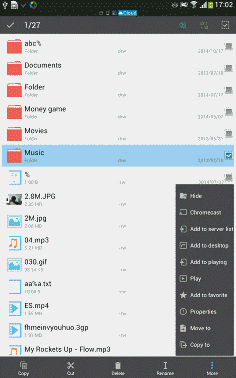 After inputting username and password (if you do not have an account, you need to register first), click Ok. After creating, you can manage your files in cloud server
How to manage files in SMB server
LAN feature in ES can stream media files, view remote pictures and operate files between your android device and SMB server.
1. Setup your WiFi Network Security with a Password and share a folder
A Password is a much more Secure. So, if you want to use a Password for your Wi-Fi Sharing, then you need to enable a password on your Windows user accounts, by going to Start > Control Panel > User Accounts > Add Password
**If you don't have a password or don't want to use one, you may need to do the following:
On your PC Computer, go to Start > Run, and type "gpedit.msc", & Hit Enter
When the Group Policies Window Pops up, Click on "Computer Configuration" then Navigate to "Windows Settings > Security Settings > Local Policies > Security Options"
Double Click on "Account: Limit local account use of blank passwords to console login only" Select Disable
To share a folder and make it accessible from Android, you will need to share it with "Everyone."
To do this, Right-click on the folder you want to share on your Windows and click on Properties to open the folder properties. Navigate to the Sharing tab and click on the Share button to open the File Sharing window.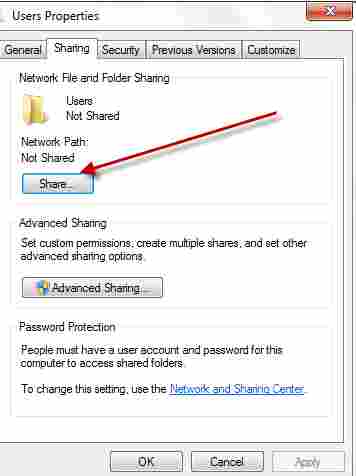 Or navigate to the folder you want to share, click the Share with menu, and select Specific people.
Enter "Everyone" in the box and click the Add button.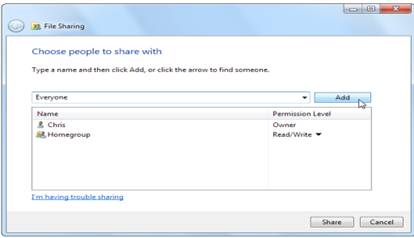 By default, Everyone will only have Read permissions – if you also want to copy files from your Android to the shared folder, you can change the permission level to Read/Write.
Click the Share button after configuring your permissions.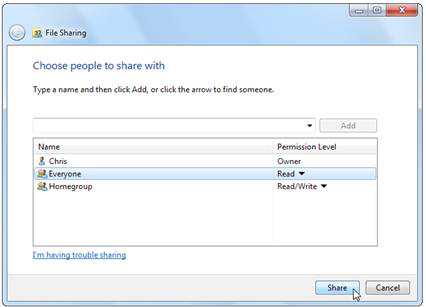 2. Access your Shared Folders from your Device:
Open ES File Explorer from left sidebar→network→LAN or from network page → new→LAN
Enter the Following:
- Domain: Leave Blank
- Server: Type you IPv4 Address
- Username: Type the name of your current Windows User Account (found by hitting the Start Menu and looking at the top)
- Password: Type the password you use to sign into Windows when you start your computer
*This is NOT your Home group Password. So Wifi Connection is less Secure unless you have a Strong Windows User Account Log-in Password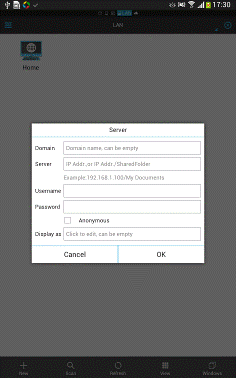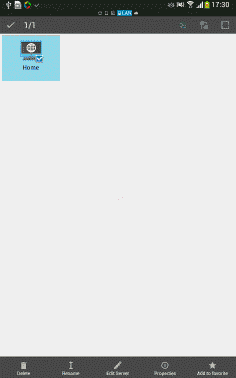 3. Manage files
It will open up a screen with many Drive Folders & Printers etc on your network, but they will all be inaccessible except for the ones you chose to share
Next time, all you should need to do is go straight to your Computer and access the files without being troubled further
You can long Click Any shared folder, select it, go to "More", then click "Add to Desktop" to create a shortcut on your Android desktop which opens directly to a shared folder on your network
How to manage files on your android device with your PC?
If your PC and android device are in the same wifi, you can manage your phone's file with your PC wireless and without any client
1.open remote manager
From left sidebar→network→remote manager or pressing remote manage on homepage you can get remote manager page
Pressing Turn on you will see an address start with "ftp://"type it in any Address bar from your PC then you can manage all the content in your SD card on your PC
.
From Settings you can set port, change root directory, set manage account, set charset and create shortcut
2.Shortcut
①Set desktop shortcut on your android device
From settings of remote manager page in ES you can click "create shortcut "so that next you can just click on the desktop shortcut to turn on remote manager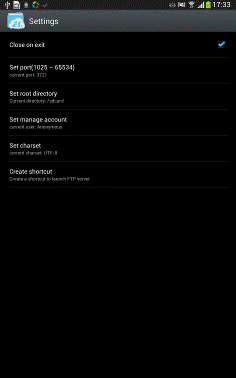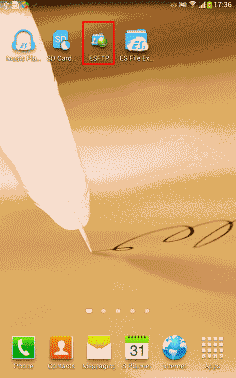 ②Set desktop shortcut on your PC
Steps are:
Open Windows Explorer and Right-click "My Computer" in the list of Locations in the Windows Left Pane
Click "Add a Network Location"→ "Next"→Copy and Paste your FTP Address in the field, & hit Next→ Deselect "Log on Anonymously"→ Type the Username you set in your ES File Explorer Remote Settings→ Type a Name like "My Device FTP"
Hit Next & Finish
How to manage other android devices via Bluetooth?
From network →Bluetooth you can get to Bluetooth page, click "yes" to Bluetooth permission request, then you can search nearby devices to connect.
After pairing successfully you can mange other devices on your phone.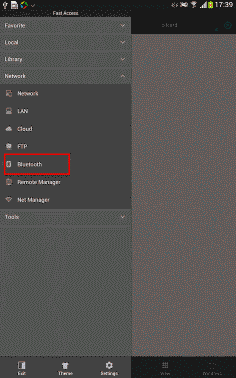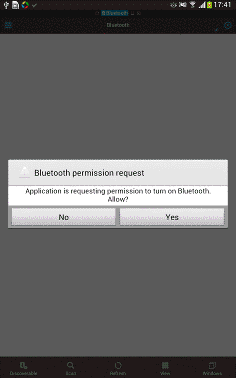 How to browse and manage photos on remote album?
From left sidebar→Library→image , you can get to image page, click address bar to switch to Net, click net to login your Flickr, Instagram or Facebook account then you can manage your photos.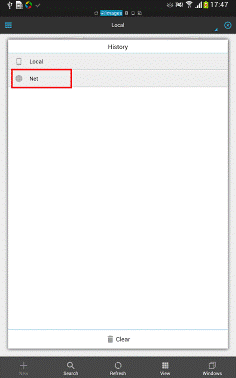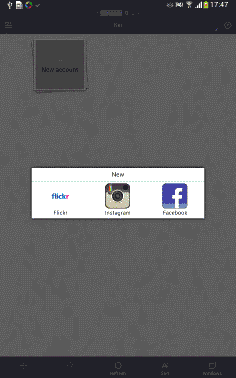 How to manage files on FTP server?
In ES you can access FTP, FTPS, SFTP or WEBDAV server
Premise: Create server successfully and keep it on.
Method: From left sidebar→network→FTP you can go to FTP page press New or scan and select your server→ input your server info click OK to create it on your android device.
Long press the server, you can delete, rename, edit and see its properties.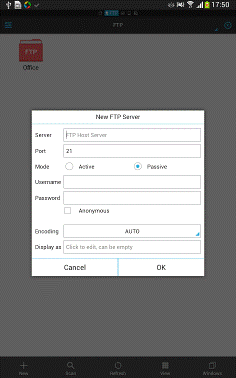 How to send files/folders to others?
"Send by LAN" feature is among all the android devices within the same wifi and all have ES opening.
You can select some of your files and press send to select devices to send directly to them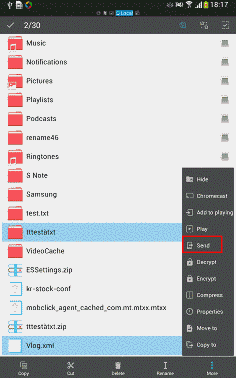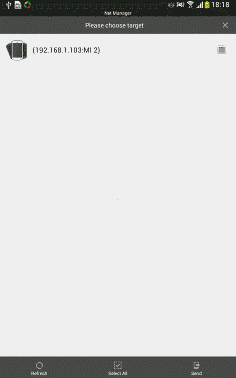 You can also press "send files"from homepage and select files to send to other devices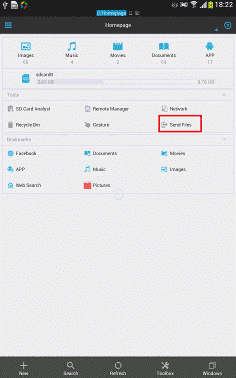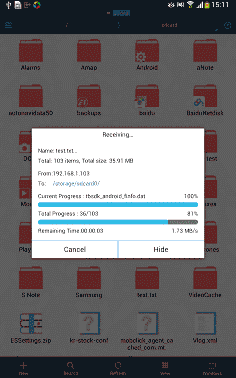 If you can't get all devices connect to the same wifi you can use ES to create hotspot and let other devices connect to it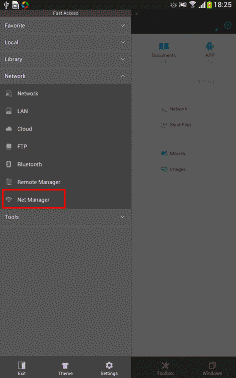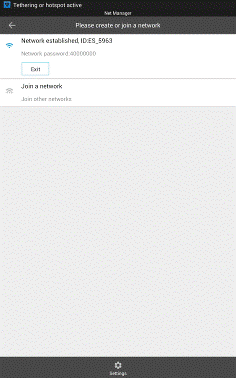 How to share files?
Long press files and press share you can select third party apps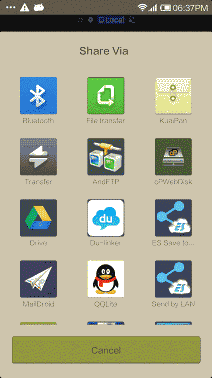 How to search network resource?
On homepage after pressing search you can press the top right button to search network resource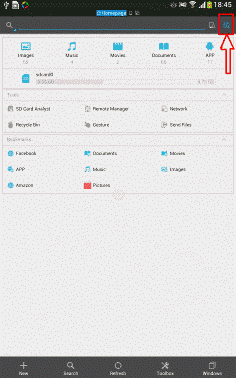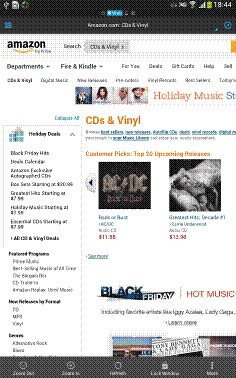 From settings →search engine setting you can change to the search engine you like. You can also disable on homepage