Local
How to batch operate files?. 1
How to view and manage media files?. 1
How to manage app and apk files?. 1
How to open file with third party app?. 1
How to change view and sort?. 1
How to batch operate files?
1. Select files
Long press files/folders you can select press again you can cancel selection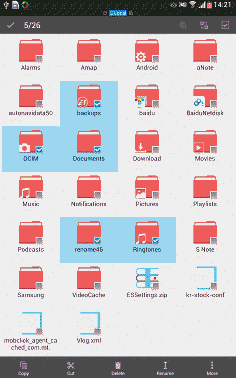 If you want to range select you can just select the first and last file and press the button on top right corner (as shown in the screenshot)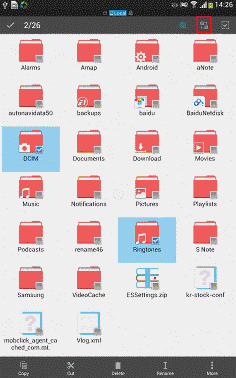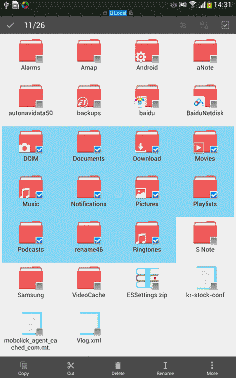 2. Operate
You can manage those files/folders you selected by pressing the options on toolbar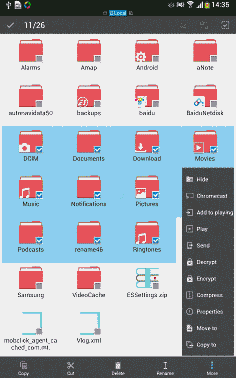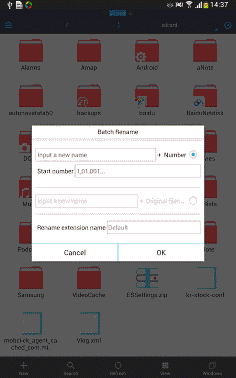 How to cut and paste?
ES has a powerful clipboard which allows user to paste files/folders multiple times
1.Copy & paste
After selecting you can press copy or cut on toolbar and go to the directory you want to paste file and press paste button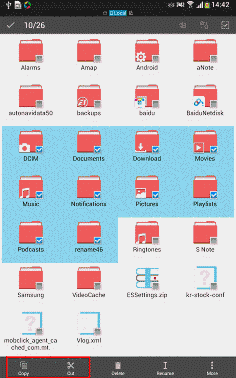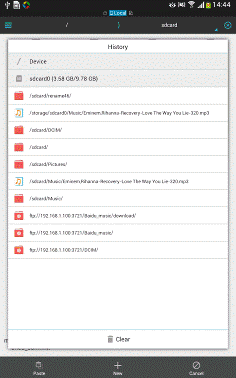 2.Open clipboard
After you copied something you can press windows button on toolbar and press clipboard on top right corner of the pop-up window to get clipboard.
You can paste its contents to any directory for many times and you can press clear button to clear it. And it would be cleared automatically when you exit the app.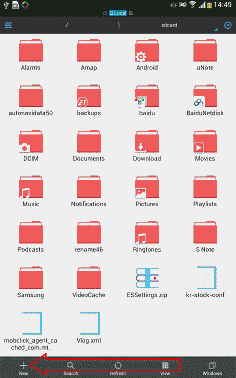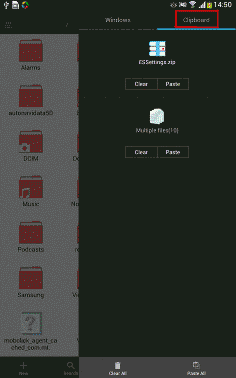 How to search local files?
Meanwhile you can choose Category of files or even advanced options to find the target.
To cancel the search task, drag down the status bar, click the task progress bar and cancel it.
1.Search by keywords
Clicking Search on toolbar→ input keywords (such as mp3, text, etc.) you can search files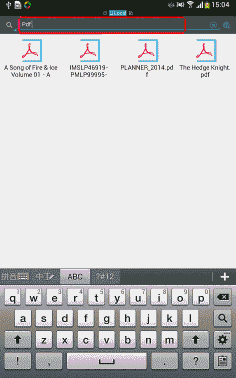 2.Search by category
Clicking search icon you can select file category(image, audio, video, apk, document)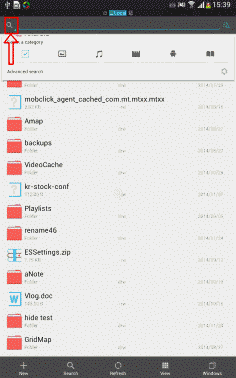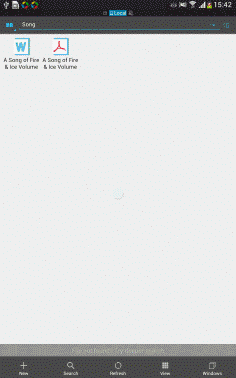 In local directory you can do advanced search where you can search file according to file size and date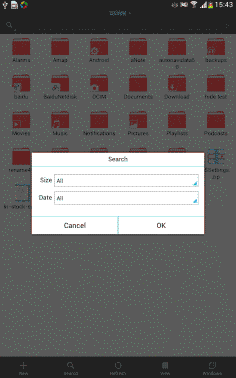 3.Deeper search
Sometimes you can't find your file due to system file library doesn't refresh in time or some other reason you can try deeper search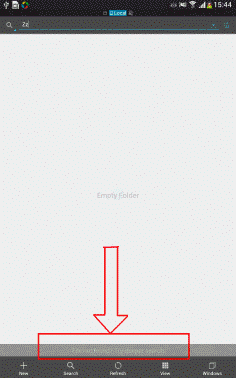 How to view and manage media files?
1.Entrance
You can view file by category(image , audio, video, app, document) from homepage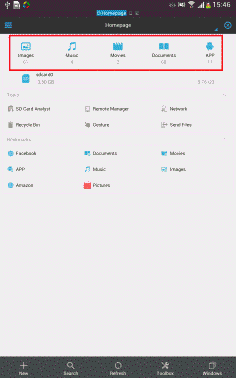 You can also open fast access →library to view files by category
There are to ways you can get fast access: press the button to the left of address bar or slide toolbar from left to right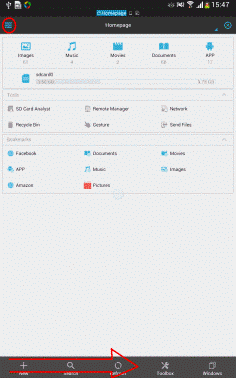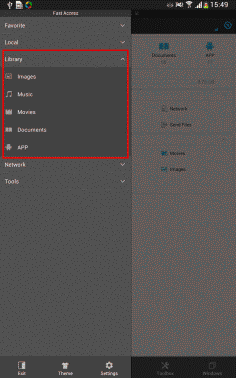 2.Open files
Pressing on file you can select app to open it
In ES Image viewer by pressing the menu button on top right you can do operations as shown in screenshot.
you can also search network resources according to file name or resolution by pressing the search button.
Besides you can view images in chromecast by pressing the chromecast button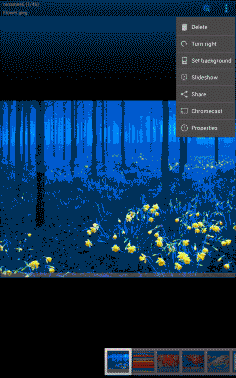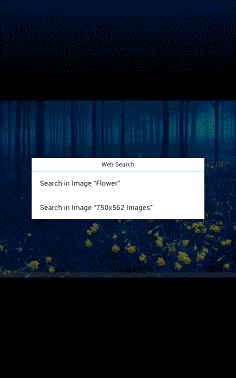 In ES Music player you can do operations as shown in screenshot.
Pressing the search icon on the cover image you can search network resources
Slide screen from right to left you can get playlist page where you can change music order by pressing the button under music name and save playlist by pressing menu button on top right. By long pressing music you can manage it. You can open audio via chromecast by pressing chromecast button.
From left sidebar→tools you can long press music player →add to desktop to make a widget of music player.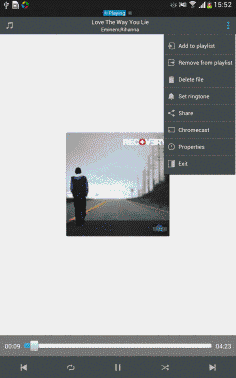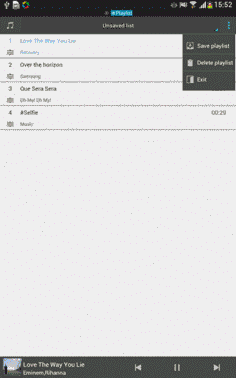 In ES Video player you can do operations as shown in screenshot. By pressing search button you can search network resources besides you can view video via chromecast by pressing chromecast button.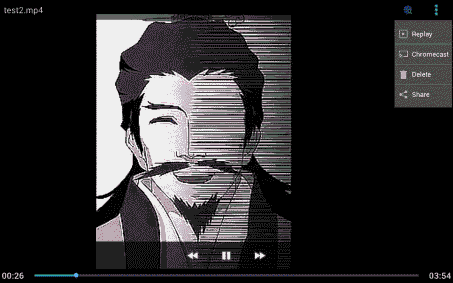 It uses system codec in current version, so that it supports the same formats as which system supports. You might try other player if it doesn't play the format.
3.Chromecast plug-in
If you have chromecast device you can view media file via chromecast with ES
Steps are
①put your android device(4.0+system required) and chromecast device in the same wifi and make sure your devices have access to Google service
②long press media files and select chromecast on toolbar
③follow the guide to download chromecast plug-in and begin to scan devices
④select your device to play on it
⑤while playing you can switch to local and use the control on notification to control it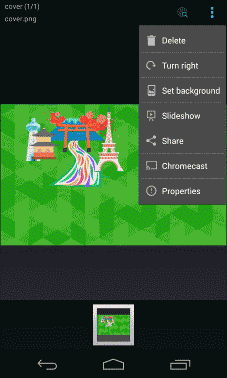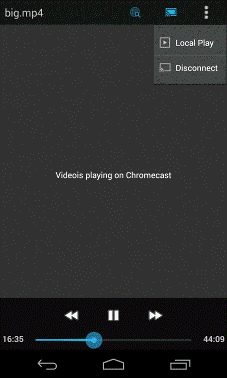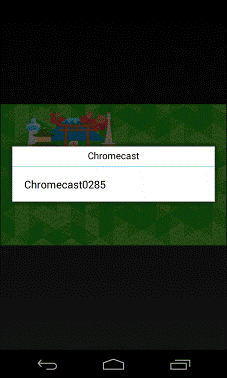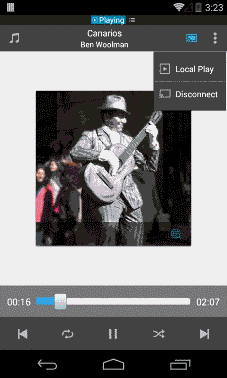 How to manage app and apk files?
1. Entrance
From homepage→ app or left sidebar→library→ App you can go to app manager
Pressing on app you can see properties, manage permissions (root permission required), search it in market and open it
You may notice that some apps are in green and some are in red
Green means you have backed up the version you have installed
Red means the version you have backed up in older than the one you installed
Black means you haven't backup it
Long press app you can uninstall, make a backup, share to others, send by LAN, add to desktop, see properties or detect update
Pressing on address bar you can manage app by category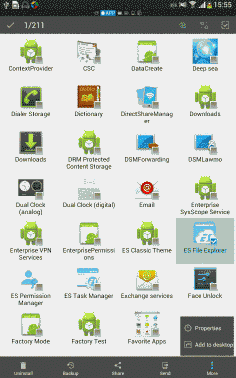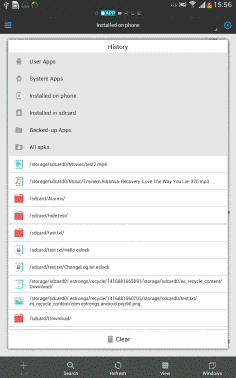 2.permission manager
If you have rooted your device you can manage app permission with ES permission manager
Steps are
①Press app in app manager and press manage permissions
②Follow the hint to install ES permission manager plug-in
③check or uncheck permissions to manage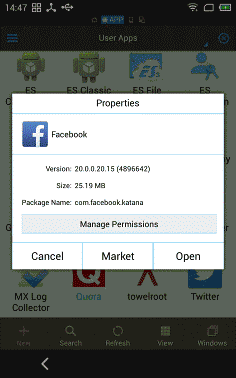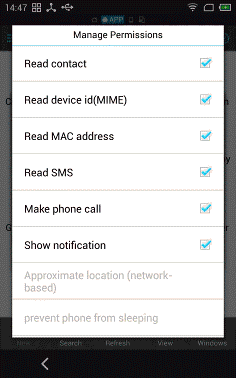 How to edit documents?
With ES note editor you can edit txt, php, html files
Pressing menu button you can edit delete or change its encoding. You can search network resources by pressing on search button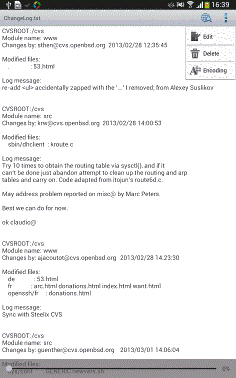 How to zip/unzip files?
Long pressing local file you want to compress and select compress on tool bar select format, compress level (Fast is fast but relatively larger, best is smaller but slow, standard is average in size and speed) and set password according to your need.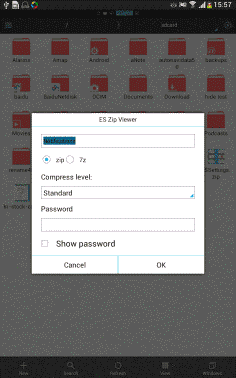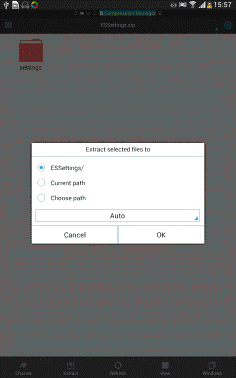 To unzip you can open the file with ES Zip Viewer and press extract on tool bar you can choose extract path and also change file encoding
How to open file with third party app?
Pressing on file you can select app to open it.
Once select you can set the app as default according to your need.
To clear default you can go to Settings→Cleanup settings→Clear defaults
If you didn't find the app you want in the pop up window , you can long press the file→open as→other to select any app installed in your device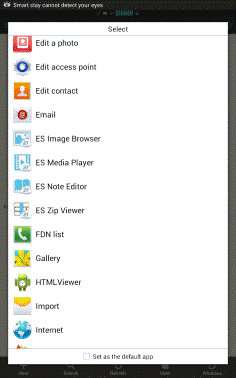 How to change view and sort?
Pressing view button on toolbar you can change view and sort as shown in screenshot.
Detailed view can display file size permission and modified date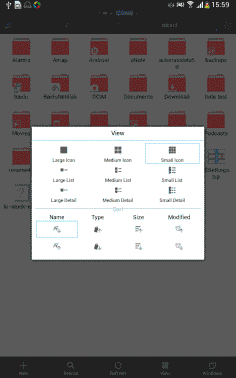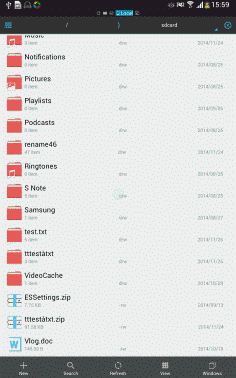 Using zoom gesture you can get full screen and you can press the button on the bottom right corner to go back